The Special Criminal Court in the Central African Republic (ENG/FR)
Progress and challenges in establishing the Special Criminal Court in the Central African Republic
Progrès accomplis et défis à relever dans la mise en place de la Cour pénale spéciale en République centrafricaine.
By Erica Bussey, Senior Legal Advisor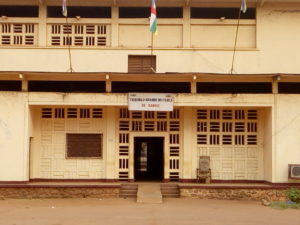 You can find the French version of this article below.
It has been a long, slow process, but gradually the Special Criminal Court in the Central African Republic (SCC), a "hybrid" tribunal that has jurisdiction over grave human rights violations and serious violations of international humanitarian law committed since 2003, is starting to take shape. In a country where there are systematic weaknesses with the justice system, a deep mistrust of the national courts, and where the suspected perpetrators of crimes from both sides live openly in the community with impunity, this court is the last resort for many.
The SCC, established by law in June 2015, will be entirely within the national legal system, but it will have both national and international judges and staff and it is being heavily supported by the peacekeeping mission in CAR (MINUSCA) and UNDP. With an initial mandate of 5 years, the SCC will be developed in phases. The immediate focus is on developing the infrastructure and capacity to begin investigations.
Good progress in this regard is being made:
Tousssaint Muntazini Mukimapa, a former military prosecutor in the DRC, was named as the Special Prosecutor, in February 2017, and several other national and international staff and judges have been recruited.

The building allocated for the court (previously the Tribunal de Grande Instance) is being renovated.

Consultants have been engaged to draft the Rules of Procedure and Evidence, which will then be the subject of consultations.

A strategy on witness and victim protection both for the SCC, and for the national system more broadly, has been developed.


There are also efforts underway to develop an outreach strategy, and preliminary outreach sessions have already taken place with civil society. Moreover, the OHCHR issued a mapping report in May 2017 providing a comprehensive account of the crimes under international law committed from 2003-2015 that will be of critical importance in the Special Prosecutor's process of developing a prosecutorial strategy, given the vast scale of the crimes committed and the need to prioritize amongst them.

However, much effort will be needed to pull these various initiatives together to operationalize the SCC and many challenges remain. Only US$5 million of the US$7 million required for the first 14 months of the court have been obtained from donors including the US, France and the Netherlands as well as from MINUSCA, and there appears to be few commitments to funding the SCC beyond this initial period. Funded solely by voluntary contributions, it is difficult to see how the SCC will avoid ongoing financial crises similar to those that destabilised and undermined the work of the Special Court for Sierra Leone and to this day affect the work of the Extraordinary Chambers in the Courts of Cambodia.
The SCC also faces conducting investigations and pursuing arrests in a country that continues to be plagued with violence and instability, and where large parts of the territory are still controlled by armed groups. In a deeply divided society, outreach will be essential but incredibly challenging, particularly with very limited resources. Given the lack of public understanding and trust of the justice system, it will be difficult to reach areas outside of Bangui, particularly in the east of the country where the security situation is currently dire.
The SCC may also have difficulty attracting enough sufficiently qualified national and international staff. Although extensive training is planned, the lack of capacity of national staff, particularly in relation to investigating and prosecuting complex international crimes, may prove problematic. Despite commitments to ensure that judges and staff reflect a gender balance and that national judges represent different geographical areas and religious communities, the first round of recruitment has not been very successful on either front. To some extent, this is reflective of the limited representation of women and Muslims in the judiciary/legal profession in CAR. Nonetheless, addressing this imbalance will be essential to ensure the fairness – and the perception of fairness – of the proceedings. The court must also ensure that the rights of the defence are respected and that an effective system of legal aid is put in place.
The creation of the SCC marks the first time that a hybrid court will work in a country where ICC investigations are also underway, which may represent an important innovation particularly if there is effective coordination between the ICC and SCC. The law establishing the court provides that if the Prosecutor of the ICC is "seized of a case, then the SCC will recognize the primacy of the ICC and will not pursue the case", in what some have called "reverse complementarity". However, critics have questioned whether this provision can be reconciled with the complementarity regime in the ICC Statute.
Despite these challenges, the court is sorely needed. Violence resulting in human rights abuses and crimes under international law, including attacks on MINUSCA peacekeepers has continued, increasing in recent months. There have also been suggestions that an initiative for negotiation with armed groups spearheaded by the AU and ECCAS might offer amnesties to members of armed groups which would deny justice to victims (although this is not reflected in a recent roadmap for this process). A peace agreement signed in June 2017 under the aegis of Sant'Egidio, puts emphasis on the possibility of pardons and on negotiations for the lifting of sanctions, as well as seemingly prioritizing truth and reconciliation over justice. These initiatives appear to run counter to the spirit of the Bangui Forum on National Reconciliation held in 2015, which strongly rejected the possibility of any amnesties. In this context, it is more important than ever that the SCC commences its investigations, and begins to make inroads in the fight against impunity in CAR without delay.
The SCC is not the only hybrid tribunal to be proposed in recent years, after a lull in the development of such courts after the establishment of the SCSL and ECCC well over a decade ago. A Hybrid Court for South Sudan has been mandated in a 2015 peace agreement, and hybrid tribunals have also been proposed for Burundi and Eritrea. Lessons have been learnt since the "first wave" of hybrid tribunals – no shiny new buildings will be constructed in CAR as they were at the SCSL, and careful efforts are being made to ensure that the SCC will help in rebuilding the justice system in CAR as a whole.
Will the SCC succeed? It remains to be seen, but for the majority of those who have suffered from the crimes committed particularly during the recent conflict, this court holds out the best hope they have for accountability.

For more information, see Amnesty International's January 2017 report The long wait for justice: Accountability in the Central African Republic.

---
Le processus a été long et lent, mais petit à petit la Cour pénale spéciale (CPS) en République centrafricaine, un tribunal « hybride » dont la compétence s'étend aux violations graves des droits humains et du droit international humanitaire commises depuis 2003, commence à prendre corps. Dans un pays où les carences de l'appareil judiciaire sont chroniques, où règne une profonde méfiance vis-à-vis des tribunaux nationaux et où les responsables présumés de crimes des deux camps vivent au grand jour et en toute impunité, cette Cour constitue pour beaucoup le dernier recours.
Créée officiellement en juin 2015, la CPS sera entièrement intégrée à l'appareil judiciaire national mais sera composée de juges et de personnel nationaux et étrangers. Elle est actuellement fortement soutenue par la Mission de maintien de la paix en RCA (MINUSCA) et le PNUD. Dotée d'un mandat initial de 5 ans, la CPS sera mise en place en plusieurs phases. Dans l'immédiat, il s'agit en priorité de développer les infrastructures et la capacité d'ouvrir des enquêtes.
À cet égard, des progrès satisfaisants ont été réalisés : À cet égard, des progrès satisfaisants ont été réalisés:
Tousssaint Muntazini Mukimapa, un ancien magistrat militaire de la RDC a été nommé procureur spécial en février 2017 et plusieurs autres juges et personnel tant nationaux qu'étrangers ont été recrutés.

Le bâtiment attribué à la Cour (l'ancien tribunal de grande instance) est en cours de rénovation.

Des consultants ont été recrutés pour élaborer le Règlement de procédure et de preuve qui fera ensuite l'objet de consultations.

Un programme de protection des témoins et des victimes a été conçu aussi bien pour la CPS que pour le système national plus généralement.
Des efforts sont également déployés pour élaborer une stratégie de sensibilisation et des séances préliminaires d'information avec la société civile ont déjà été organisées. En outre, le Haut-Commissariat des Nations unies aux droits de l'homme (HCDH) a publié un rapport de cartographie en mai 2017 qui dresse un inventaire des crimes relevant du droit international qui ont été commis entre 2003 et 2015. Ce rapport sera d'une importance critique pour permettre au procureur spécial de mettre en place une stratégie pour les poursuites, étant donné l'ampleur des crimes commis et la nécessité de les traiter selon un ordre de priorité.
Toutefois, beaucoup d'efforts devront être fournis pour regrouper ces différentes initiatives afin de rendre opérationnelle la CPS alors que de nombreux défis restent encore à relever. En effet, seuls cinq millions de dollars sur les sept demandés pour les 14 premiers mois de la Cour ont été obtenus de la part des bailleurs de fonds dont les États-Unis, la France et les Pays-Bas ainsi que de la MINUSCA, et il semble y avoir peu de promesses de financement de la CPS au-delà de cette période initiale. Financée exclusivement par des contributions volontaires, il est difficile d'imaginer comment la CPS pourra échapper à des crises financières comme celles qui ont déstabilisé et nui au travail du Tribunal spécial pour la Sierra Leone et qui continuent encore aujourd'hui d'affecter le travail des Chambres extraordinaires au sein des tribunaux cambodgiens.
La CPS se heurte également à la difficulté de mener des enquêtes et de procéder à des arrestations dans un pays qui continue d'être en proie à la violence et à l'instabilité, et où de vastes portions du territoire se trouvent encore sous le contrôle de groupes armés. Dans une société profondément divisée, la sensibilisation sera essentielle mais extrêmement difficile, en raison notamment des ressources très limitées. Étant donné la méconnaissance du public et son manque de confiance vis-à-vis de l'appareil judiciaire, il sera difficile d'atteindre les zones en dehors de Bangui, notamment dans l'est du pays où la situation sécuritaire est actuellement critique.
La CPS pourrait également avoir du mal à attirer en nombre suffisant du personnel judiciaire national et international suffisamment qualifié. Bien qu'il soit prévu d'organiser des formations intensives, le manque de capacité du personnel national de mener des enquêtes et d'engager des poursuites pour les crimes complexes relevant du droit international pourrait s'avérer problématique. Malgré des engagements pris pour veiller à ce que les juges et le personnel reflètent un équilibre entre les hommes et les femmes et représentent les différentes régions géographiques et les différentes communautés religieuses du pays, la première vague de recrutement n'a pas été très réussie sur ces deux points. Dans une certaine mesure, cela témoigne de la faible représentation des femmes et des musulmans dans la profession judiciaire/juridique en RCA. Toutefois, il sera essentiel de corriger ce déséquilibre pour assurer le caractère équitable – et le sentiment d'équité – des procédures. La Cour doit également veiller à ce que les droits de la défense soient respectés et à ce qu'un système d'aide juridictionnelle efficace soit mis en place.
Avec la mise en place de la CPS, c'est la première fois qu'un tribunal hybride travaillera dans un pays où des enquêtes de la Cour pénale internationale (CPI) ont été ouvertes, ce qui pourrait constituer une importante innovation surtout s'il y a une réelle coordination entre la CPI et la CPS. La loi portant création de la Cour prévoit que si le procureur de la CPI est «saisi d'un cas entrant concurremment dans la compétence de la Cour Pénale Internationale et de la Cour Pénale Spéciale, la seconde se dessaisît au profit de la première.», ce que certains ont appelé « une complémentarité inversée ». Toutefois, certains critiques mettent en doute le fait que cette disposition puisse être conciliée avec les dispositions du Statut de la CPI relatives à la complémentarité.
Malgré toutes ces difficultés, le besoin d'établir cette Cour se fait cruellement sentir. Les violences qui entraînent des atteintes aux droits humains et des crimes relevant du droit international, y compris des attaques contre les forces de maintien de la paix de la MINUSCA, se sont poursuivies et ont même augmenté au cours des derniers mois. Il a également été question d'une initiative de négociation avec les groupes armés portée par l'UA et la CEEAC en vue d'accorder l'amnistie aux membres de groupes armés, ce qui reviendrait à priver de justice les victimes (bien que cela ne figure pas dans une feuille de route récente de ce processus). Un accord de paix signé en juin 2017 sous l'égide de Sant'Egidio met l'accent sur la possibilité d'accorder des grâces ; l'ouverture de négociations en vue de lever les sanctions ; la priorité à accorder éventuellement à la vérité et à la réconciliation sur la justice. Ces initiatives semblent être en porte-à-faux avec l'esprit du Forum de réconciliation nationale qui s'est tenu à Bangui en 2015 et qui a rejeté catégoriquement toute possibilité d'amnistie. Dans ce contexte, il est plus que jamais important que la CPS démarre ses enquêtes et fasse des avancées dans la lutte contre l'impunité en RCA, sans plus tarder.
La CPS n'est pas le seul tribunal hybride à avoir été proposé ces dernières années après une pause dans l'établissement de ce type d'instance après la mise en place du TSSL et des CETC il y a bien plus d'une décennie. Une Cour hybride pour le Soudan du Sud a été prévue dans un accord de paix de 2015 et des cours hybrides ont également été proposées pour le Burundi et l'Érythrée. Des leçons ont été tirées depuis la « première vague » de tribunaux hybrides – aucun bâtiment flambant neuf ne sera construit en RCA comme ce fut le cas pour le TSSL, et des efforts sont actuellement menés pour faire en sorte que la CPS contribue à la reconstruction du système de justice en RCA dans son ensemble.
La CPS réussira-t-elle ? Cela reste à voir, mais pour la majorité des personnes qui ont souffert des crimes commis principalement au cours du dernier conflit, cette cour est leur meilleur espoir de voir les responsables de ces agissements tenus de répondre de leurs actes.
Pour plus d'informations, voir le rapport d'Amnesty International de janvier 2017 intitulé République Centrafricaine. Le long chemin vers la justice: l'obligation de rendre des comptes.